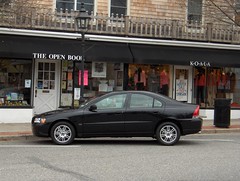 Our New Car In Westhampton Beach
Originally uploaded by Joe Shlabotnik.





Westhampton Beach, Long Island, February 25, 2006 - All you regular readers might be wondering: so what car did you end up buying anyway? We were surprised to get a Volvo S60. It wasn't initially one of our top choices, but we really liked the test-drive, and we got a great deal on it (Sue did amazing research on all the new cars we were considering to make sure of that. Excel sheets and everything. I expected one day that she'd have me sit through a PowerPoint presentation on the subject.) With all the options we wanted, it came out about $6000 cheaper than the Audi A4, our original top choice. Plus it had better cupholders. Sold. Now the courtyard behind our townhouses has three Volvos.

Seven years ago we bought our Altima at Nemet Motors in Jamaica, Queens, and let me tell you, it was a miserable experience. The test-drive was fine and the saleslady was nice, but once we decided to buy the car and we were dumped into the finance department, well... the short story is that we were in that room for FOUR HOURS (I kid you not - no exaggeration) while they lied to us and tacked on unexpected charges and tried to sell us every add-on they could think of. Gap insurance, extended warranties, alarm systems, you name it. And then when the torture was over, the car wouldn't start. Ugh.

But our experience at Karp Volvo in Rockville Center couldn't have been more different. They were friendly from start to finish. The price they quoted was the price we got, no unexpected charges. When we said we weren't interested in the extra-special alarm system, they let it drop. And when we picked up our car, the process took all of ten minutes. Hand over the check, sign this, here are the keys, this is what the buttons do, okay, you're off. Whee!

It was a really nice February day, so we drove out to the Hamptons and wandered around. Winter is a good time to go because it's much less crowded. But hey, I grew up out there so I love it in any season.

As for the car, I'm pleased to report that I'm liking it more the more I drive it. (Well, except for the poor iPod interface, but at least it has an iPod interface. You'd be surprised how many cars still don't.) Today it passed 1000 miles. Sniff. They grow up so fast.